S. J. & the Crossroads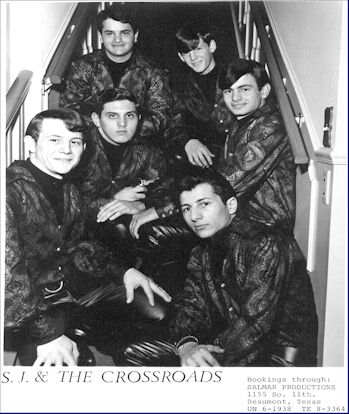 photo courtesy Sam Messina Archives
CLOCKWISE FROM THE LEFT
S.J. SERIO........Drums & Vocals
SAM GIGLIO.........Keys & Vocals
MIKE DALEO...Rhythm Guitar & Vocals
JOHNNY SERIO........Lead Guitar
PHILIP BATTALGIA..Bass, and plenty of fun and laughter
"HANDSOME" Sam Messina - Lead Vocals and Chick Magnet
One of Beaumont's Finest: S.J. and the Crossroads
Yes, Ladies and Gentlemen, S.J. and the Crossroads were also one of the best and busiest bands in the 1966 & 1967 era. They battled only with a couple other local bands worthy of standing on the same platform. These guys were excellent.
These guys were famous for using practially ALL VOX equipment:
Super Beatle Amps, Vox Guitars, Vox Wah Wahs, Vox AC30's.